To what does the term 'orthotics' refer?
Orthotics refers to the application of external devices to a part of the body to either maintain or alter the position or a joint or body part. They are most commonly used to reduce pain and discomfort, improve mobility and function, and to reduce risk of further injury. There are a very wide variety of conditions that they may require the use of an orthosis and they can be fitted to almost any part of the body, from the feet all the way up to the face and head. You might require an orthosis if you have any of the following conditions: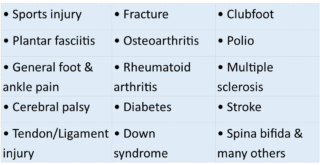 Depending on your needs you may be fitted with an orthosis that is custom made for you, or one that is produced to fit a range of people (your orthotist will discuss this with you in order to reach the best solution to meet your needs and lifestyle expectations). An orthotic device may also be called a brace or a splint, and there are many different types. Please follow the links for more information on each type of orthosis.
[easingslider id="1856″]
[tabs id="1882